Small Business Sentiment Drops in First Half of 2016
Younger Business Owners Continue to be Most Optimistic amid Economic and Regulatory Uncertainties
McLean, Va. (May 2, 2016) – Small business sentiment saw a continued decline in the first half of 2016, with concerns about the economy, regulation and other factors related to the pending presidential election likely causing some business owners to reconsider plans for investment and growth.
Capital One's latest Spark Business Barometer, an ongoing national study of small businesses tracking financial conditions, economic perceptions, hiring plans and other indicators of small business growth, revealed a nine point drop in the percentage of business owners who see conditions as "good" or "excellent" compared to one year ago. In addition, fewer businesses are planning to hire, with 26 percent reporting plans to add to their workforce in the next six months, compared to 32 percent the same time last year.
"Now is a critical time for small businesses as the country anticipates a change in leadership and new opportunities and challenges, such as market dynamics and new regulations and tax laws, which can have a significant impact on business results," said Keri Gohman, head of small business banking at Capital One. "At Spark Business, we're committed to understanding the issues and challenges small businesses face, and to offering solutions that empower business owners to focus more on what matters most to them –managing and growing their business."
Capital One's Small Business Confidence Score
Capital One's Small Business Confidence Score is an analysis of small business sentiment data collected by the Spark Business Barometer – looking at economic sentiment, hiring plans, recent sales, and future outlook. According to the Small Business Confidence Score, business owners are more cautious, but are feeling optimistic about their business' conditions and future outlook.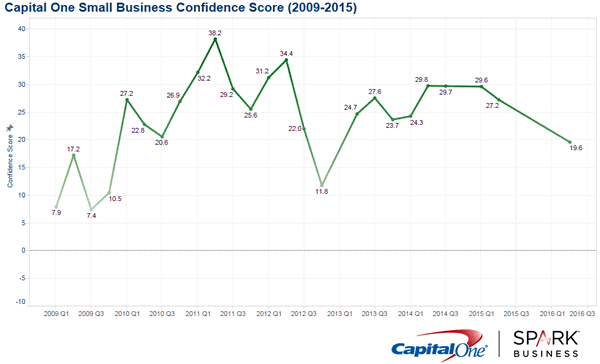 *The Capital One Small Business Confidence Score evaluates responses to a series of questions from the Spark Business Barometer and ranges from -100 (very low confidence) to +100 (Very High Confidence).
Despite the continued decline in sentiment, some small business owners remain optimistic. According to the study, many business owners are anticipating stronger financial results in the future, with 39 percent expecting to be in a better financial position in the next six months.
Following are highlights from the spring 2016 Spark Business Barometer survey.
Small business sentiment continued its decline in early 2016.
Forty-one percent of business owners say current business conditions are "excellent or good," compared to 50 percent in 2015, and 44 percent the year before (in 2014).
Slightly more businesses report "poor" conditions this year compared to last (with 19 percent of business owners reporting "poor" conditions compared to 15 percent in Q1 2015).
Fewer business owners believe business conditions are good (34 percent, compared to 41 percent last year.
Business owners are most concerned about the potential impacts the election may have on their business.
When it comes to running their business, one in four (25 percent) business owners say their primary concern is the impact of the upcoming presidential election – above competition, hiring and retaining talent and the regulatory environment. When evaluating presidential candidates, they are most focused on:

Tax policies on small business (29 percent)
The importance on economic growth (18 percent)
Growing healthcare costs (17 percent)
Changing regulations at the local and national level (15 percent)
Fewer business owners are planning to hire in the near-term, with more businesses considering part-time employees or contractors, and with less small businesses investing in employee benefits like 401(k) plans.
Twenty-six percent of business owners said they plan to hire employees in the next six months, compared to 32 percent one year ago, and 37 percent in the second quarter of 2012.
Of those who plan to hire, 50 percent of SBOs plan to hire full time employees this year, compared to 54 percent this time last year.
Twenty-five percent of women plan to hire employees in the next six months, with 73 percent of those hires being part-time employees.
Twenty-seven percent of male business owners plan to hire in the next six months, with 51 percent of them consisting of part-time employees.
The percentage of small businesses offering 401(k) plans declined nearly 50 percent since the fourth quarter of 2014 – from 24 percent to 13 percent – this year, despite the variety of simple, low-cost plans available in the marketplace.
Women and younger business owners continue to be the most optimistic.
Nearly half (49 percent) of total respondents believe business conditions will remain stable over the next six months. Forty-four percent of women business owners anticipate that their business will be in better financial standing in the next six months, compared to 36 percent for men.
Additionally, nearly three-fourths (72 percent) of Millennials say their business will be in better financial shape in six months – compared to only 34 percent of SBOs over 50– likely due to 38 percent of Millennials reporting increased sales in the last six months.
Business owners are still not fully capitalizing on digital, analytic and social tools.
Despite the rapid growth of new digital, mobile and social tools designed to help business owners manage, market and grow their enterprises, some business owners are still not adopting these technologies.
Only 26 percent of the SBOs who utilize social media say they are "very familiar" with the ability to leverage commerce opportunities and market products through social media.
Less than one quarter (21 percent) of business owners currently use data analytics to make more informed business decisions.
Forty percent say they do not currently utilize social media at all for their business.
Small businesses continue to miss out on valuable benefits – like cash and travel rewards, and business spending and tracking tools – that come with using a business credit card.
Of the 67 percent of small business owners who currently have a business credit card, only 24 percent use it as their primary method of business spend.
More than half (57 percent) of business owners using a business credit card charge 20 percent or less of their monthly business expenses to their card.
Only 29 percent of business owners who use a business credit card use rewards to pay business expenses and only 10 percent use rewards to help their business' bottom line.
Small business continues to be the livelihood of the U.S. economy. To celebrate and recognize the contributions of small businesses to our economy and the communities we live, work and play in, Spark Business is offering a wide variety of special promotions and discounts tailored for small businesses throughout the month of May. The second annual "Seize the May" program makes Spark Business' award-winning banking, investing, mobile and merchant services products and tools even more accessible to businesses of all sizes. For more information about the promotions on Spark's lending, checking and savings, merchant services, credit cards, and retirement offerings, please visit www.capitalone.com/seizethemay.
Capital One is committed to understanding the challenges, trends and perceptions that affect small businesses' overall performance and day-to-day operations. Follow along on Facebook at Capital One Small Business and on Twitter at @CapitalOneSpark. Use the hashtag #SparkBizBarometer to follow the conversation.
Survey Methodology
The following presents a summary the methodology used to execute Capital One's Spring 2016 Small Business Barometer Survey, conducted by the market research and business intelligence firm ORC International. For this telephone study, ORC interviewed a national sample of 401 for-profit small businesses in the U.S. Small businesses are defined as those with total annual revenues less than $10 million. Interviews were conducted from March 14-29, 2016. One respondent per business was interviewed. The margin of error is +/- 4.9 percentage points at a 95% confidence level.
The initial sample for this study was constructed using a random selection from the extensive business database maintained by Infogroup, Inc., and drawn to be representative of qualifying small businesses throughout the U.S. by industry, region and employee size. To compensate for variation in response rate among different types of businesses, final data were weighted by region and industry to help ensure the final results are proportionally representative of the small business population. In developing the weighting frame, ORC International considered the impact on comparability with prior waves of the study.
About Spark Business
Capital One® offers a broad spectrum of financial products and services to consumers, small businesses, and commercial clients. Spark Business from Capital One comprises a suite of innovative products and services specifically designed for small business, including credit cards with unlimited rewards, no-fee checking and savings, and secure and flexible merchant service offerings. Spark Business provides tips, resources, and inspiration to help your business thrive at www.SparkBusinessIQ.com. For more information, visit www.CapitalOne.com/smallbusiness.
Contact: Nicole Wyman, 202-309-9132
nicole.wyman@capitalone.com
---
---
---
---